Porsche 964 RS in " grand prix " white with just 40700 km done and still totally in original paint.
this car was sold new on 21.12.1992 by Porsche Italy to an italien leasing company and later had one more italien owner of whom we bought the car back in 2014 with 39765 km. This older gentleman and real porsche enthusiast really took care of his vehicle.
In Italy the following services where done over the years : 4.10.94 = 5000 km, 11.3.99 = 25508 km, 24.7.01 = 32500 km, 9.2.04 = 36018 km, 15.09.06 = 37808 km, 02.08.08 = 38344 km 
After we bought the car we took it to Porsche Centre in Münster on 28.08.2014 at 39805 KM and had another service done.
Since than the car was in a small german collection of Porsche cars and was only driven to avoid problems from not using it at all.
Before the future owner will take delivery of the car we will have another fresh service carried out at Porsche in Münster.
The car comes with a german titel, copies of the old italian paperwork ( titel / carta die circulatione ), some service invoices, all booklets, service book *,  spare keys and key code card.
An official report and valuation on the car was done by DEKRA incl. a full paint report to state the conditions & quality of the car.
Top class Porsche 964 RS that can be used & enjoyed as it should be due to the milage and does not need to be "only a collectors piece " !
POA 
Outside :
Inside :
Engine :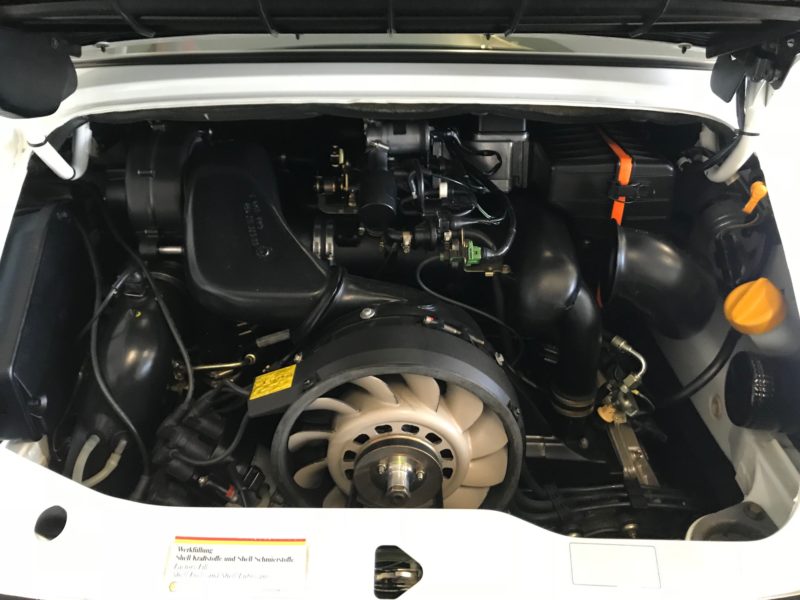 Front compartment :
Details :